News
27 November 2017

Strictly not dancing: Why some men won't dance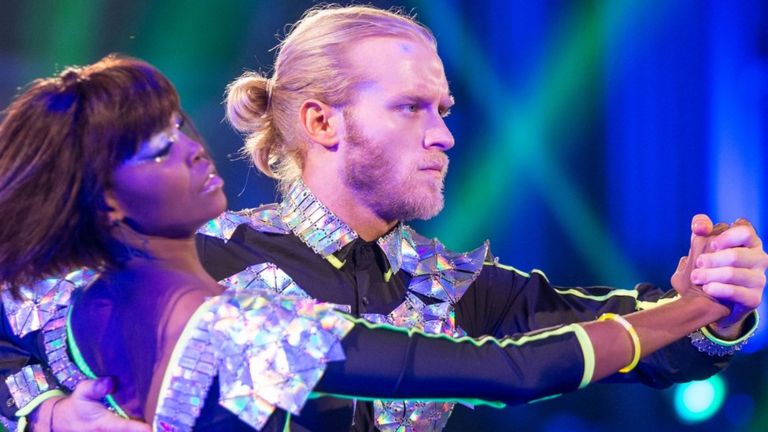 Over three quarters of British men say they have never or rarely danced, according to a YouGov survey of 1,000 men by BBC Radio 5 live.
Embarrassment was a major factor - over a third of the men surveyed said it would stop them getting on the dance floor.
Ten per cent said what put them off was being afraid of being the centre of attention, being made fun of, or being judged.
Confidence
Two-time Paralympic champion Jonnie Peacock admits that, before taking part in Strictly Come Dancing, he was one of those who would avoid dancing.
"Before this competition, I was probably the last person up on the dance floor. It wasn't that I didn't enjoy dancing, it's more like the embarrassment of doing it terribly," he says.
It's a feeling echoed by many of the men questioned in the poll.
"I generally feel uncomfortable on a dance floor, particularly if there are not many people on it - I am happier if it is crowded - safety in numbers!" said one respondent.
Dutch courage
Some men surveyed said they needed a drink to dance or said a drink made them feel better about dancing.
"I don't think I'm very good at it and therefore need some Dutch courage to get me on the floor," one said.
Gareth Dew, 35, admits he has drunk for confidence.
"I rarely drink, but if there is a situation where I am likely to dance I will have a few glasses of whiskey to help calm the nerves."
Wedding dance
Weddings are the places where men are most likely to have a go at dancing - 75% of men in the 5 live survey said they had previously danced at weddings.
For Gareth, his upcoming wedding is an added incentive to learn.
"I get married next October so at least by end of summer 2018 I would like to have some form of dance coordination."
Strictly Come Dancing professional Neil Jones says, in his experience, it's the brides making the grooms learn to dance.
"I have so many people who come to me and they ask for wedding dances, and it's always the women saying I need to get him into it, but he doesn't want to dance."
Gareth admits even before they were engaged, his fiancee helped give him confidence.
"I dance more now in the last six months than I probably ever did in my life," he says.
"I think now - thanks to Sheena - I have realised I have rhythm in my hips but my legs and arms still do not know how to act. Yet I feel because I am relaxed around her I am able to dance a bit more confidently. "
'Expressing not impressing'
So what is the best way to lose your dance inhibitions?
"Nobody over thinks it more than yourself," Peacock says.
"Although you'll feel like everyone is staring at you and everyone is going to remember your horrible hips for years, really they're probably going to see it for five minutes."
Gareth says confidence is about letting go.
"Before I carried a lot of stress in my body and so was quite rigid."
"I think to be able to dance you need to be able to let loose, be aware of your body and generally be more comfortable in yourself."
Strictly Come Dancing professional, Kevin Clifton says: "Dancing is about expression. It's about expressing not impressing."
Source: http://www.bbc.co.uk/news/entertainment-arts-42100765