News
27 January 2018

Jonnie Peacock: 'My most embarrassing moment? Stepping out in front of millions in glitter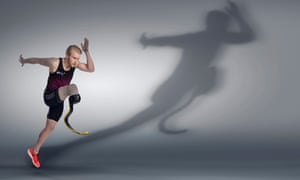 Born in Cambridge, Peacock, 24, had meningitis when he was five. As a result, his right leg was amputated below the knee. After training as a sprinter for four years, he set a 100m world record in 2012 and achieved gold in the event at the London Paralympics later that year. In Rio, he defended his title and set a Paralympic record. Last year, he took gold at the World Para Athletics Championships in London. He is currently on the Strictly Come Dancing live tour, which runs until 11 February. He lives near Loughborough with his girlfriend Sally Brown, who is also a Paralympic athlete.
When were you happiest?
Probably when I finish a race.
What is your greatest fear?
At the moment, it's dropping [his dance partner] Oti.
Which living person do you most admire and why?
David Beckham. He was my idol growing up and I met him in 2000, just before the England game against Romania.
What was your most embarrassing moment?
Stepping out in front of millions in glitter and a spray tan.
Aside from a property, what's the most expensive thing you've ever bought?
A fast Golf car. I got rid of it after about six months because it kept depreciating in value.
What is your most treasured possession?
My two French bulldogs, Luna and Bella.
What is your wallpaper?
A picture of my dogs and my girlfriend in front of a lake.
What would your super power be?
The ability to fly.
What makes you unhappy?
Rude people.
What do you most dislike about your appearance?
My scars.
What is your most unappealing habit?
Being late.
What did you want to be when you were growing up?
A footballer.
What is top of your bucket list?
Seeing the world and being happy.
What is your guiltiest pleasure?
A massive burger.
What do you owe your parents?
Everything.
What or who is the greatest love of your life?
My girlfriend – or my dogs! I met Sally at the World Junior Championships in 2010. We live together now.
What does love feel like?
Wanting to share everything.
What has been your biggest disappointment?
I try not to have disappointments, because a lot of the bad things that happen in life teach you things.
When did you last cry and why?
I welled up a little when I was voted off Strictly.
What is the closest you've come to death?
When I was five and the doctors walked in and said to my mum: "I am not sure if you will be taking him home."
How would you like to be remembered?
Someone happy and cheeky who tried to change perceptions.
Where would you most like to be right now?
In a dance rehearsal; I have just realised what time it is!
Source: https://www.theguardian.com/sport/2018/jan/27/jonnie-peacock-q-and-a-interview-paralympian