News
16 May 2018

Girl, 9, says removing leg offers her best hope for future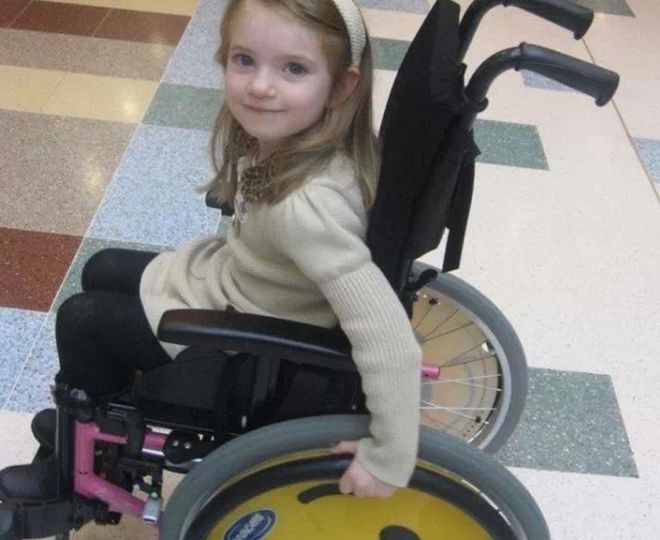 A nine-year-old girl says she wants to have her leg amputated to allow her to lead a normal life.
Ruby Hamilton suffers from a rare and crippling condition called proximal femoral focal deficiency (PFFD) which has caused her discomfort and pain since she was small.
The condition results in a deformity of the hip and her right leg being shortened.
She was also born with a talipes - a condition affecting the shape of her foot - and lacks any cruciate ligament in her knee.
After being limited physically, Ruby has come to the decision with her parents Maddy and Robert that amputation gives her the best possible outcome for the future.
She has been inspired after seeing the paralympian Jonnie Peacock on Strictly Come Dancing, and witnessing what the athlete could do with a prosthetic leg.
The youngster has also met 13-year-old Hannah Morrison, from Glasgow, who is leading a normal life after having her leg removed when she was seven.
Ruby's parents, from Drongan, East Ayrshire, told The Kaye Adams programme on BBC Radio Scotland of their hopes for the future.
Mrs Hamilton, 36, said the decision had been taken by Ruby and the family following consultations at the Sick Children's Hospital in Glasgow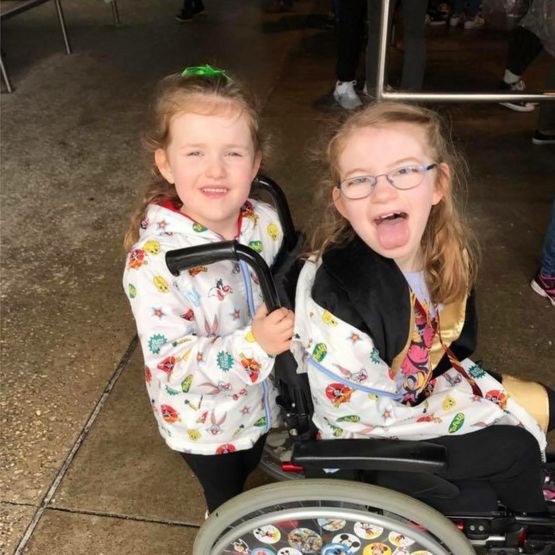 Her mother said: "She knows all about what's going on - that's something that we've deliberately done. We can't hide this from her.
"She can't wake up one day and have her leg off and just say 'what's happened?'
"We use the word amputation so Ruby knows what's going to happen.
"It's been her decision to come to this herself."
Ruby's father Robert said: "The three options were to do nothing at all, or have a leg removed, or start the process of lengthening.
"And Ruby thought that having her leg amputated would be the best option - after much discussion."
Ruby mainly uses a wheelchair but can walk, albeit with extreme discomfort.
'An inspiration'
Mrs Hamilton said: "Today, Ruby is having quite a good day.
"But if she does too much or she walks too far - or any kind of physical activity - we have to counteract the pain that she has.
"And yesterday she had a whole day out the game because of it."
Because Ruby has no cruciate ligament at all in her knee, it means there is nothing to stabilise her leg.
Mrs Hamilton said: "Ruby's leg could be lengthened to make it the same length as the other leg, but we would still have this problem with the knee.
"This (amputation) is a chance for her to have a normal life.
"A lot of people think, goodness - a prosthetic or taking off a limb.
"But it's a chance for her to be able to walk, and to run and to be able to do all the things that her peers do."
Ruby was inspired to see what Jonnie Peacock could do when she saw him on Strictly last year.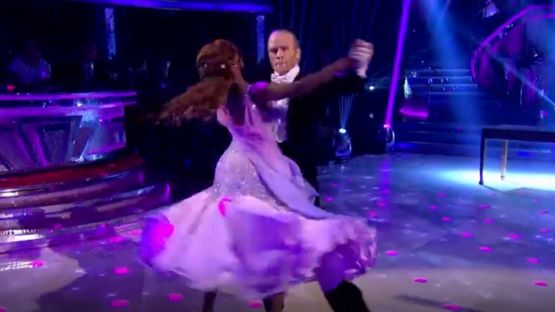 When asked what she thought about the star, Ruby told the programme: "He can do anything he wants."
But it was when she finally met Hannah that the possibilities of what she could do opened up to her.
Mrs Hamilton said: "Hannah was fantastic for Ruby when they met. Ruby was very quiet when she saw Hannah and we were quite worried when we went out - you know 'what had she thought?'
"But the second we left, all she said was 'did you see what Hannah could do - did you see everything that she could do? Wasn't she amazing?' That's all she'd focused on.
And Ruby said of Hannah: "She can do everything - there is nothing she cannot do."
Winning medals
The teenager has not let her disability hold her back and has won a clutch of swimming medals and captained a school hockey team.
Last year, Hannah appeared in the new series of children's BBC show Raven when she took part in challenges testing strength, agility, courage and resourcefulness.
Hannah, who was born with a rare bone condition, told the programme: "My life is completely normal - you just act like a normal person.
"It doesn't stop me at all. I can do everything that my friends do and there's nothing that can really stop me.
"My friends are just used to it now, because they grew up with me having a big cast on or frame.
"So now I can run about with them - they are just really happy for me.
"I do hockey, tennis, swimming, running - I do all the sports that the school do. I don't do anything different."
Mrs Hamilton said a recent conversation with Ruby had brought out a telling concern held by her daughter.
"Her biggest worry is that after she has this (operation), will she still be the same - will she still not be able to walk?
"And I thought that was a very valid concern - and something that we will definitely be discussing with the consultants when we meet them, so that she understands exactly what's ahead of her."
But the family's mind is made up. They are scheduled to see a second consultant in Sheffield next week and then expect to await the operation to remove Ruby's leg.
Mrs Hamilton said: "Ruby would be using a wheelchair for the rest of her life if she doesn't have this.
"Whereas this give her the chance to have a normal life.
"You know, Hannah goes into town with her friends, and just walks about with them.
"And that was a big eye-opener for Ruby when she heard that Hannah does that because she has obviously been thinking about this herself in the future.
"'Will I be going out to town with my friends in a wheelchair - and who'll be taking me?'
'Normal wee girl'
"When she heard that Hannah just goes out to places by herself - places like Silverburn and Braehead (shopping centres near Glasgow) - this is something that she clearly wants to do.
"She just wants to be like her peers - like a normal wee girl."
Ruby's mother added: "We feel quite lucky that we have this option for Ruby.
"This could be a condition that she doesn't have an option to improve - she could have had something wrong with her heart, and be on a heart transplant list waiting for something that never comes.
"There are many, many children that are much worse off.
"Ruby is going to have a great quality of life with this.
"I am positive about it - I think it is the right thing for Ruby. I'm just looking forward to us getting on with it."
Source: https://www.bbc.co.uk/news/uk-scotland-44138869